As occupational hygienists who are handy with a noise meter, we sometimes get asked by our clients to investigate environmental noise. Usually this has been in response to neighbour complaints or at the planning stages of requesting planning permission for longer operating hours. Under BS4142 an Initial Appraisal can be made using an integrating sound level meter used for occupational noise. A full survey requires an environmental sound level meter that can measure A90s and requires prediction software.
This particular investigation in summer 2014 was for a growing woodworking company in a mixed industrial and residential area. Our client had received neighbour complaints about a variety of issues from one particular neighbour from when they first moved in. The reason they called me was pre-emptive prior to fitting silencers onto two large fans (which had been the subject of a complaint).
I decided to measure the noise level by the fans with and without the silencer treatment. More importantly I arranged through the company to measure the noise from the neighbour's bedroom window; the fan with and without silencing and the background noise level. The samples were run over 1 hour as a daytime reference period.
The silencing treatment made a reduction of over 10 dB(A) from 90 to 79 dB(A) by the fan. At the sensitive receptor the noise rating reduced from 61 to 48, against a background noise level of 50 dB(A).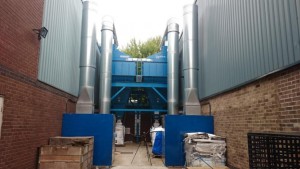 Our involvement of the neighbour in the measurements improved the trust and smoothed the relationship between her and our client. The local authority accepted the initial appraisal figures and did not require further testing. I was impressed at how effective the silencers were. The company have since increased production and have applied for planning permission to operate until 10pm.